The Met Gala — regarded by many as the biggest fashion and pop culture event of the year — is just days away.
This year's event is all about the late fashion designer Karl Lagerfeld.
Given his past comments about women's bodies, the #MeToo movement and the Syrian refugee crisis, the event's theme is not without its critics.
However, before we unpack that, let's recap on the basics.
What is the Met Gala?
It's a fundraising event for the Metropolitan Museum of Art's fashion wing in New York.
However, while it's for the museum, Anna Wintour — the editor of US fashion magazine Vogue — calls all the shots.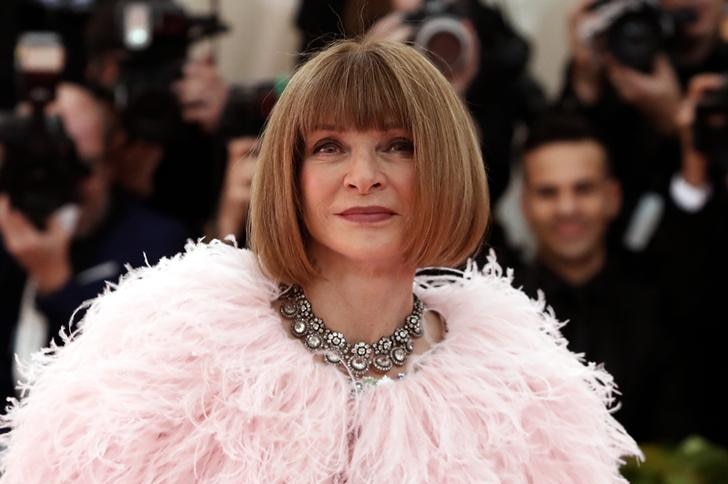 "Every person who attends is especially selected to attend," Queensland University of Technology fashion design lecturer Madeline Taylor says.
"Even if you buy a table, people are vetted and chosen. The guest list very curated."
It's not just your usual red carpet line-up of actors, models and musicians, but also includes politicians, designers and sports stars.
While what goes on inside the Met Gala is a secret, the red carpet arrivals makes for a massive spectacle.
Countless hours go into creating the often elaborate — and sometimes outlandish — looks, which adhere to a different theme each year.
This is linked to the theme for an accompanying fashion exhibit, which opens at the museum a few days afterwards.
What is the 2023 Met Gala theme?
The exhibition's theme is "Karl Lagerfeld: A Line of Beauty".
Meanwhile, the Met Gala's dress code is "in honour of Karl".
Dr Taylor says there's a distinction between the two.
She says the theme of a exhibition is about Lagerfeld as a designer and his process, rather than him as a person.
"I see the exhibition as trying to honour his fashion work," she says.
"I see the gala as trying to honour him."
Who is Karl Lagerfeld?
He was a fashion designer, born in Germany in 1933.
In 1954, he won the Woolmark Prize for his sketch of a coat, leading to a 65-year career in fashion — right up to his death in 2019.
After the Woolmark Prize, he worked under Pierre Balmain, going on to work with other big luxury fashion houses, including Fendi and Chloé.
He also started his own label.
However, his icon status is largely attributable to his time at Chanel, where he was creative director from 1983 to 2019.
Why was Karl Lagerfeld such a big deal?
"The significance of what he achieved at Chanel is perhaps difficult to grasp, given that Chanel, in the early 1980s, was so different from what it is today," RMIT associate dean of fashion enterprise Stephen Wigley says.
"It was an irrelevant brand trading on the mythology of its late founder."
Dr Wigley says Lagerfeld took Chanel's classic looks and updated them with contemporary glamour.
But it wasn't just about the clothes – he created an image.
Dr Wigley says Lagerfeld did that "through the use of spectacular runways shows, carefully curated advertising and monolithic stores, and spinning that image off into fragrances, cosmetics and accessories."
"He essentially created the business model for every luxury fashion brand — and made Chanel what it is today."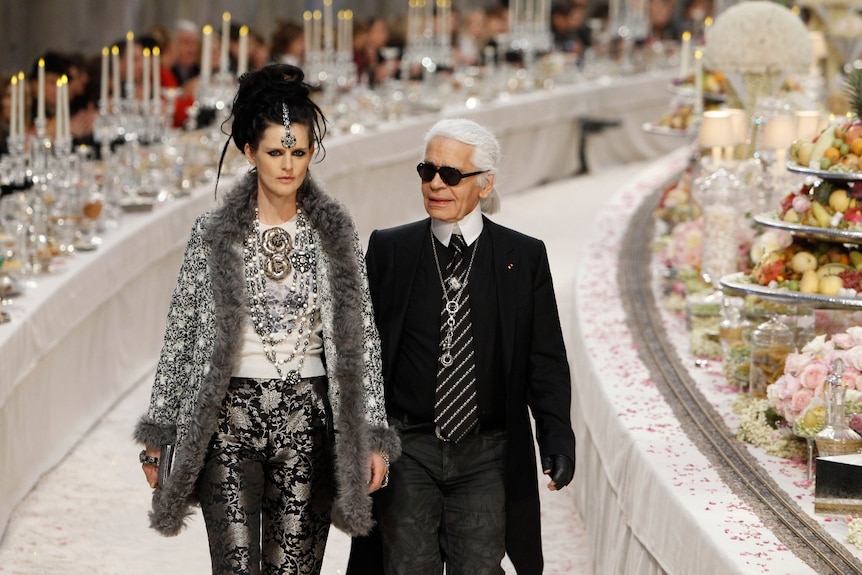 Why is Karl Lagerfeld a controversial theme?
He's been quoted saying a range of upsetting things.
Actor and feminist advocate Jameela Jamil said the event should not be celebrating someone with his "public disdain for marginalised people".
"This man … was indeed, supremely talented, but used his platform in such a distinctly hateful way, mostly towards women, so repeatedly — and up until the last years of his life — showing no remorse, offering no atonement, no apology, no help to groups he attacked," she wrote in an Instagram post last year.
"Those groups were women who were sexually assaulted, the entire #MeToo movement, gay couples who wanted to adopt, all fat people, specifically fat women, and some of his greatest harm was against Muslim refugees, and the disgusting way he spoke about people fleeing their homes for fear of their lives."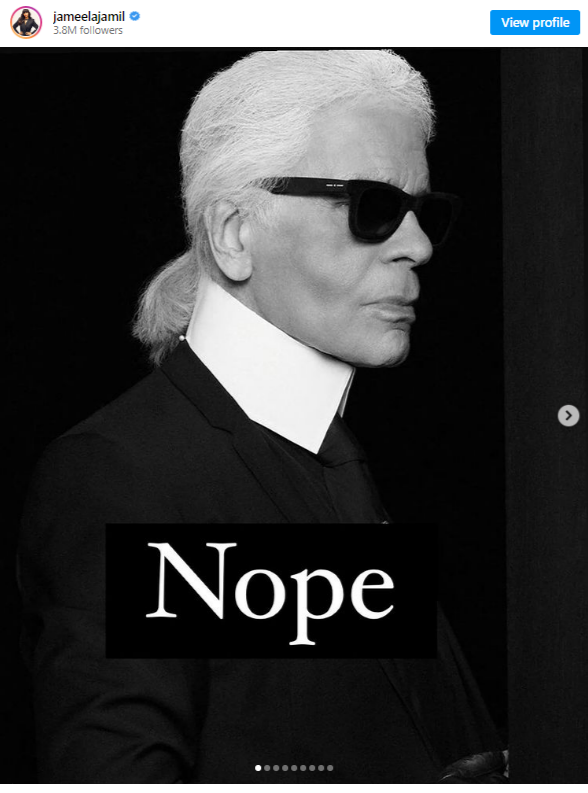 His previous comments about female bodies have been labelled as fatphobic.
An official complaint was filed against Lagerfeld when he commented on French television in 2013 that no-one wanted to see curvy models on catwalks.
He also was critical of the #MeToo movement, skeptical of women who came out with sexual abuse claims years after the alleged incidents.
Lagerfeld was also critical of Germany's intake of Syrian refugees.
"It's probably fair to say that some of his comments were not scrutinised or called out as well as they could have been," Dr Wigly says.
"Lagerfeld was clearly a quite divisive personality, both professionally and personally, but the fashion world is one which can be very — perhaps overly — protective of its own."
So why would they honour him?
"He was, and is, an iconic figure and, perhaps, he was too cosseted by his power and position [and was] seen as beyond reproach," Dr Wigly says.
"The fashion world viewed him as probably the wider world did: as enormously talented, driven, inspirational, but also eccentric.
"Perhaps that eccentricity meant he had a free pass to scrutiny."
His signature look — a white pony tail, dark sunglasses and black fingerless gloves — contributed to his iconography.
Dr Wigley says that, along with contemporaries — such as Gianni Versace, Giorgio Armani and Calvin Klein — very much created the "fashion designer" stereotype.
"Fashion designers, and fashion brands, especially in the luxury area, trade less on reality and facts, and more on stories, mythology, legends — and Lagerfeld was a master story-teller.
"He created a personal brand legend on charisma, uncompromising commitment to perfection, on distinction, and re-invention, and transferred that to his work at Chanel and Fendi.
"Part of that image was probably to be a provocateur, to say the unsayable and do the undoable. He overstepped the mark on occasion."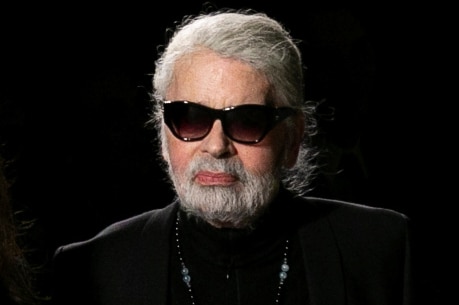 This was something he consciously played into publicly.
"The public perception of him was a carefully curated image," his brand's website says.
"Karl's sharp tongue could deliver a wisecrack with perfect timing."
For example, he once made a quip about trackpants being "a sign of defeat".
"You lost control of your life, so you bought some sweatpants," he said.
"He became an avatar of what fashion was and is," Dr Taylor says.
"And that's closely connected to his close relationship with Anna Wintour."
She says the close confidants were a "power duo".
"They enhanced each other's power."
Dr Taylor says this persona was about saying things "for shock value".
"Personally, I do struggle to separate his clear talent from his persona."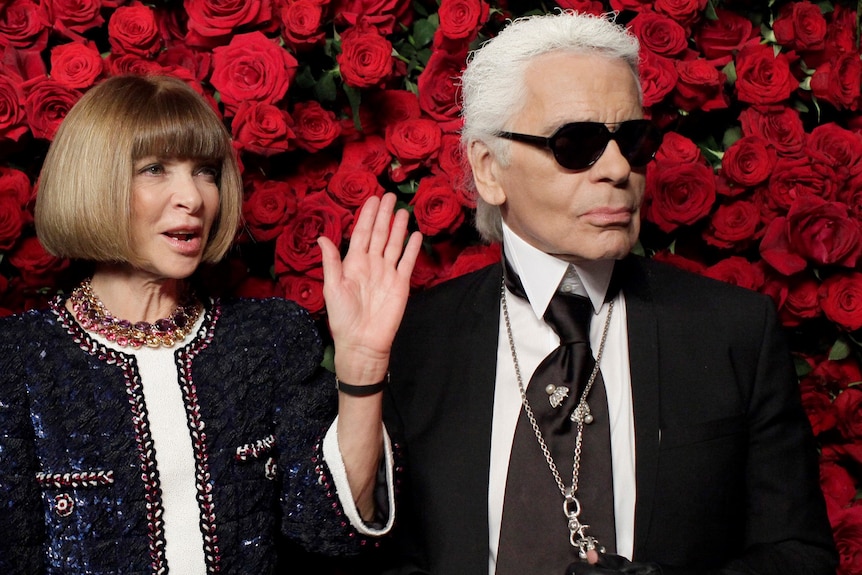 Why does it matter?
"It's probably easy to dismiss any fashion event as being frivolous, just as through another lens any cultural or sporting or entertainment event could be regarded as frivolous," Dr Wigley says.
"But it is important to recognise that events like the Met Gala represent the tip of the bigger fashion industry iceberg — an industry which not only employs millions of people around the world but which impacts our lives way beyond, simply by what we wear.
"Fashion dominates cultural conversation and social interchange. It is intrinsic to how we live and our societies work.
"Yes the Met Gala is a big party. It's very exclusive, but it is something that has genuine popular interest.
"It has been used as a means to raise popular awareness of not just fashion, but social and political issues."
Can we separate the art from the artist?
"Just as the music world struggled to reconcile appreciation of Michael Jackson's talent with his controversial statements and alleged behaviour, so fashion struggles with this," Dr Wigley says.
"I think a frank recognition of Lagerfeld's personal flaws wouldn't diminish his achievements as a designer, and there should be an open conversation about what's acceptable and what's not."