Growing up in the beachy Sydney suburb of Coogee, sisters Simi Polonsky and Chaya Chanin stuck out like a sore thumb.
"On Saturdays everyone is wearing bikinis, shorts, guys aren't wearing shirts," Ms Polonsky remembers.
"It's really just a fun, chilled beach vibe… and as a kid you just want to fit in, except we had to go to Synagogue."
Her sister chimes in: "And my mother would buy us these frilly, collared dresses and patent shoes with matching bows … and it's a really hot summer Saturday in Coogee!"
As Orthodox Jews and daughters of the local rabbi, the sisters were expected to follow the Torah's teachings of tznius: modesty.
The dos and don'ts of Orthodox dressing
The most common interpretation of tznius requires women to cover their elbows, knees and collarbones.
"If you do want to wear pants, leggings, trackies, jeans, whatever it is, it's with a skirt or a dress over it," Ms Chanin explains.
"We don't wear sleeveless [clothes] and no plunging necklines."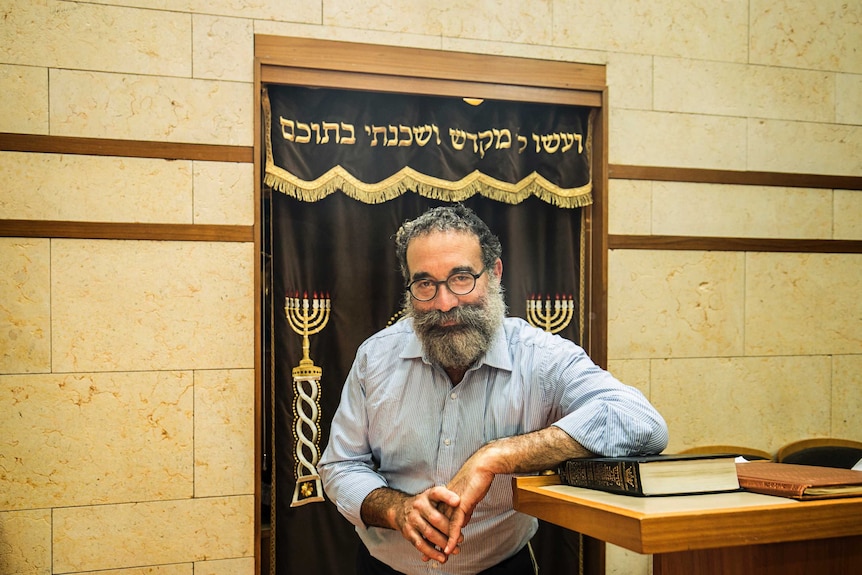 Married Orthodox Jewish women are also expected to cover their hair, but unlike in the Muslim faith, this is generally done with a wig.
"Once a woman gets married she covers her hair, whether it be with a wig, a scarf, a hat… any sort of level you're comfortable with, but it's covering the hair," Ms Chanin says.
"I think it's also beautiful that we make our wigs look like our [real] hair, because it just proves the point that this is a holy, special thing and it's not for anyone else.
"Nobody even needs to know that I'm covering my hair."
Making modest fashionable
What some might view as a restriction, Ms Polonsky and Ms Chanin saw as an opportunity.
Throughout their teenage years the pair nipped and tucked their conservative clothes, added extra fabric to on-trend outfits and spent countless afternoons paging through Vogue.
So when both sisters found themselves living in the United States working in unfulfilling jobs, fashion promised a pathway to brighter things.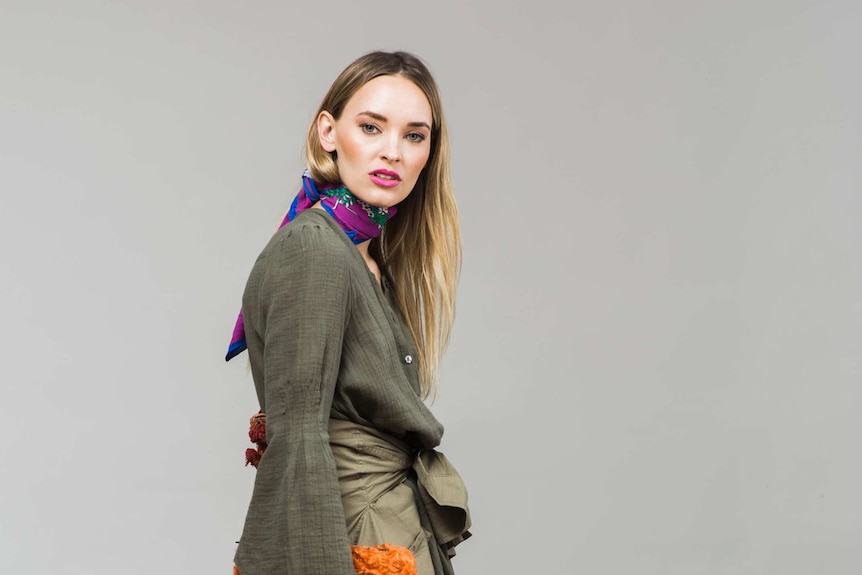 Inspired by glossy magazines and a phonebook of well-dressed female friends who were happy to sell last season's wears, the pair organised their first pop-up.
"Our husbands were schlepping and carrying garbage bags full of clothing to this florist that we rented," Ms Polonsky recalls.
"[The shop] was the first of its kind in our community, first of its kind in the Orthodox Jewish world of women, fashion, clothing… it was exciting."
Numbers-wise, the sale was a hit, attracting more than 600 customers on the first day.
But not everyone in the community was impressed with their approach, or style.
"We photocopied four different images from Vogue, cut them up, made a collage … then by hand plastered them all around the neighbourhood," Ms Polonsky says.
"We got phone calls — people said, 'The posters put up, was that by you guys? It's not appropriate! The girl's wearing blue nail polish'."
Their business, The Frock NYC, grew, and so did their families. Babies were born, the label received write-ups from Vogue and Vanity Fair, and sales spiked internationally.
It wasn't just Jewish women purchasing their clothes, either.
"Over the past few years we've had hundreds and hundreds of women emailing us, and they would say things like, 'I'm Jewish or I'm Muslim or I'm Mormon or I'm Christian, and I never felt connected to my faith because I didn't like the way they dressed and I couldn't figure out how to combine the two, but when I see you guys I'm like, maybe I can'," Ms Polonsky says.
"That's our whole ethos, we're respectful of all different levels of religiosity, and people that aren't religious at all."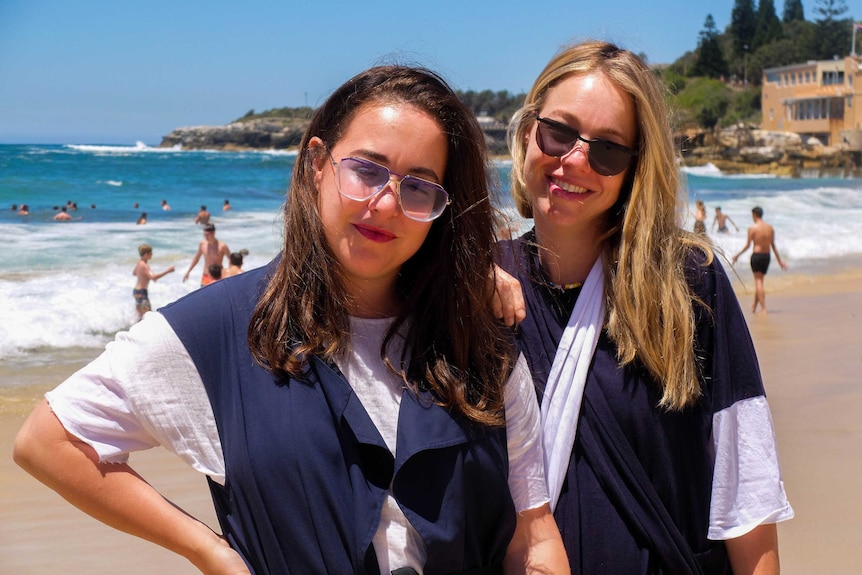 When tragedy strikes
In October last year, the family was struck with a tragic blow.
Ms Polonsky's husband Yeshua — fondly known as Shua — contracted a rare and rapidly debilitating virus.
"My husband was the healthiest, fit, young guy and three months ago he had the flu," she recalls.
"We rushed him to hospital because he was so dehydrated and it turns out it wasn't the flu, it was a really bad virus that attacked his heart."
For three weeks the family stayed by his bedside.
"I believed with every ounce on of my soul and mind and heart that he was going to make it," she says, her voice beginning to break.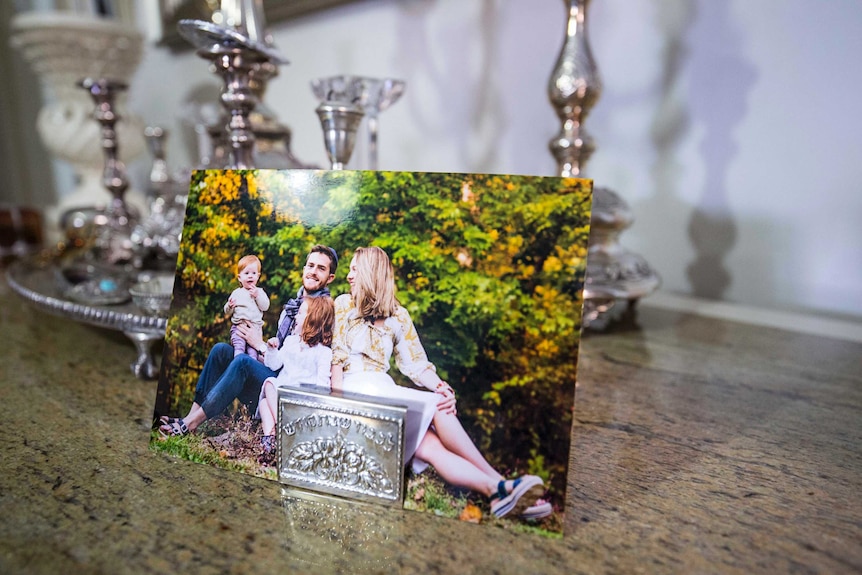 Mr Polonsky passed away on November 9. Prayers couldn't keep him alive, but an online fundraising campaign to support the family has amassed more than $1 million from 9,000 donations.
Ms Polonsky, who's expecting her third child, is still struggling with the loss.
"When I told my daughter… I came home and I had to tell her the news of what happened to her daddy," she says, tearing up.
"She cried and then she said to me, 'I'm so mad at HaShem — God — but I still love him'.
"I realised that I'm right now in a black hole with no light, stripped bare, and I'm here alone, but God's with me."
To get through the darkness, Simi has dived back into The Frock NYC with her sister.
They both see the business as a testament to Mr Polonsky, who loved fashion and even appreciated their label's "man-repelling" styles.
"My husband didn't mind that I wasn't wearing some sexy number, he was excited about the fashion and the out-of-the-box thinking that we shared with thousands of other women," Ms Polonsky smiles.
"He just loved all people — Jewish, not-Jewish, black, white — and his outlook on life, and on people, translates so much into our business and the way we look at women of [all] faiths."