Former prisoner of war (POW) Alan Rabinov turned his skills as "one of the more successful traders and scroungers" in Changi into fashion business success after World War II, according to an Australian fashion anthropologist.
Tom McEvoy says Ricki Reed was one of Australia's most successful youth fashion labels of the '50s and '60s, in part due to Mr Rabinov's wartime experiences.
"Outside of design, I can't think of any better experience for the fashion world than being a 'trader and scrounger' as he was in Changi," Mr McEvoy told ABC Radio Melbourne evenings.
"You have to know how to make deals, how to grease the right palms, and be incredibly resourceful — these are all elements that Alan had in spades."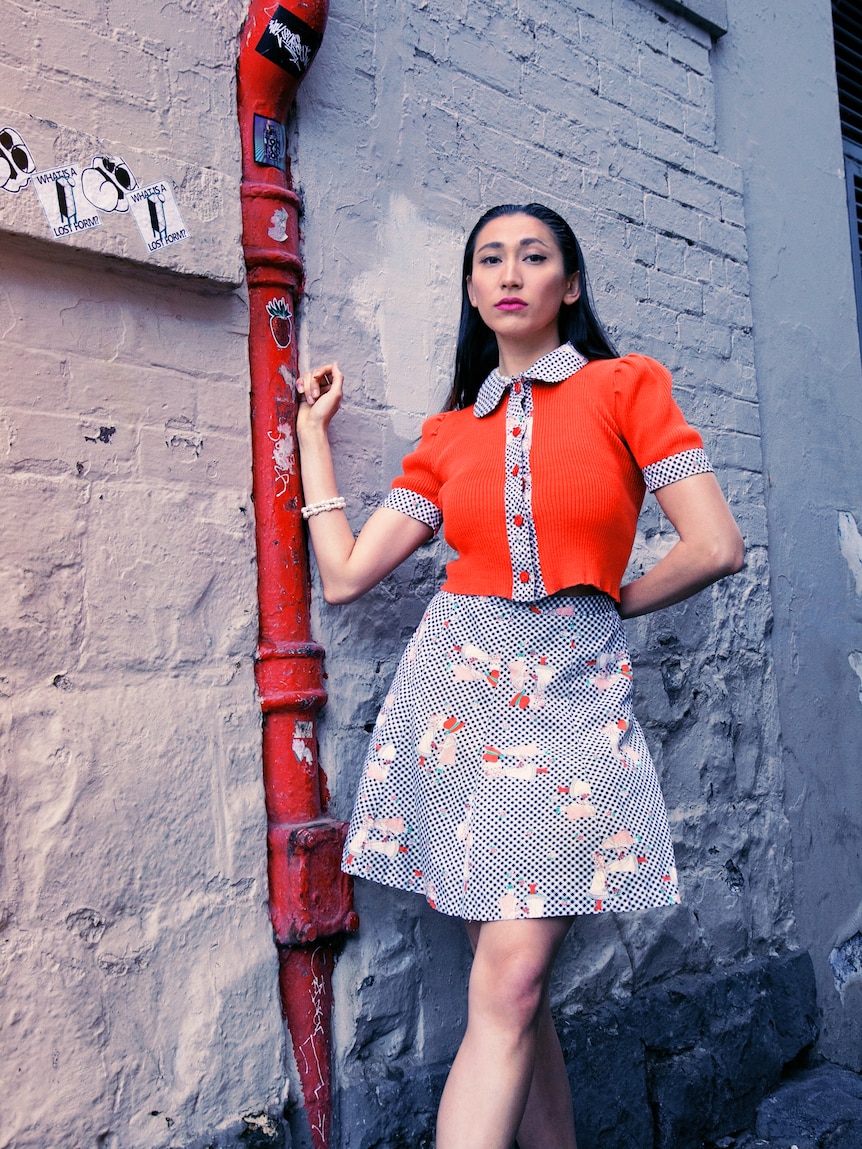 Tamara Lee Bailey models a Ricki Reed two-piece. Supplied: Tom McEvoy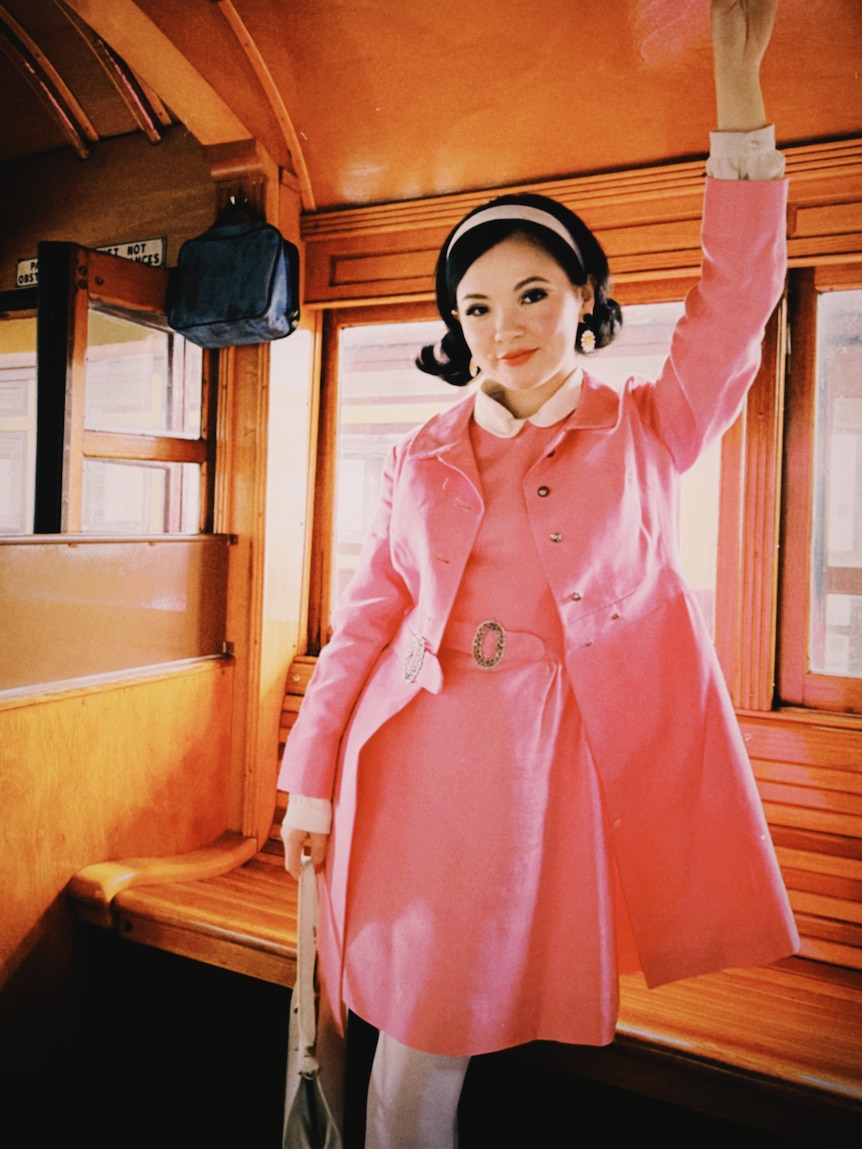 Lily Holiday models a pink Ricki Reed dress. Supplied: Tom McEvoy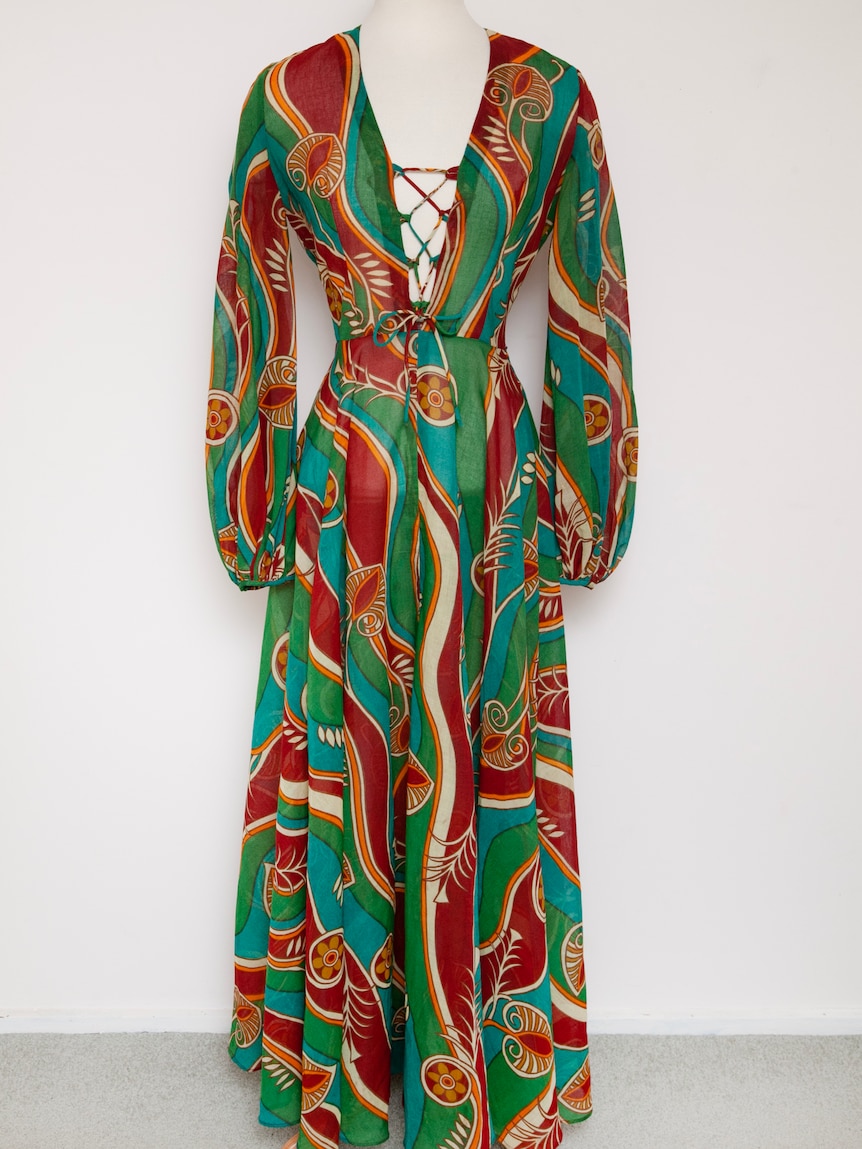 A floor-length Ricki Reed dress. Supplied: Tom McEvoy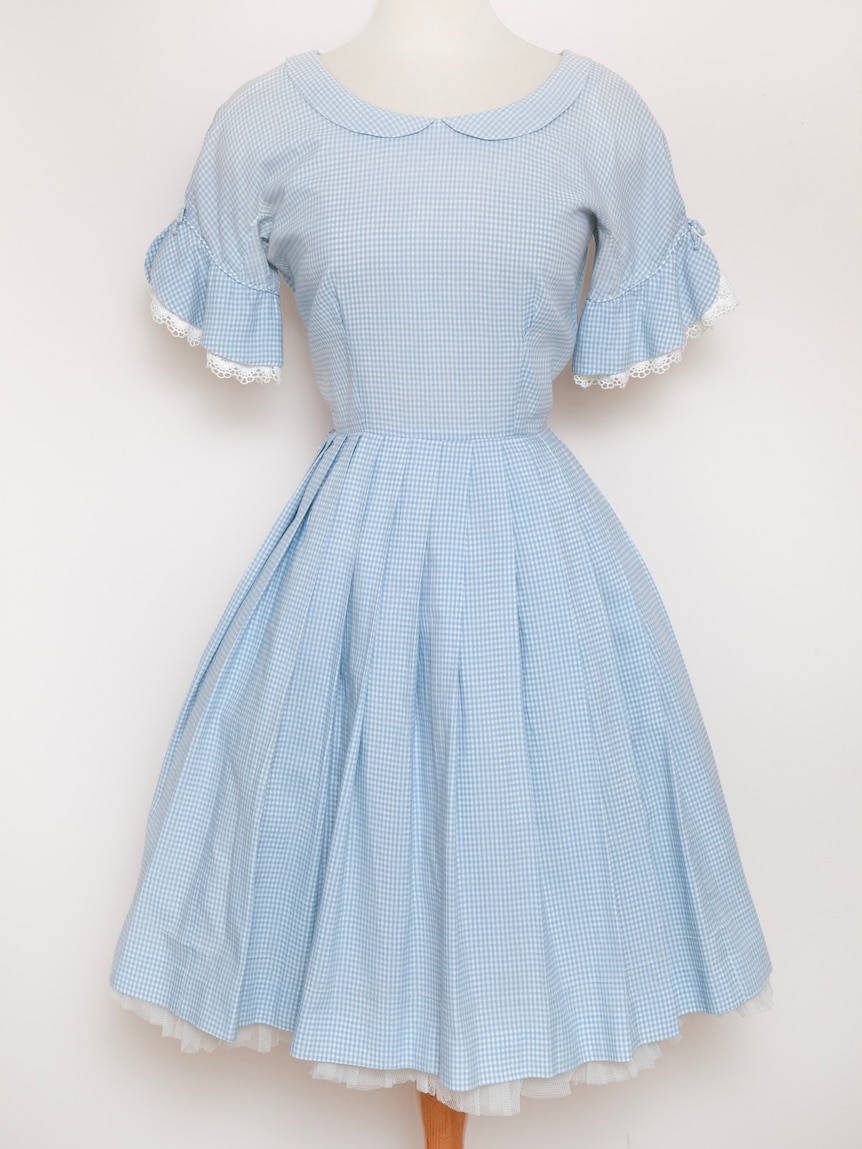 A light blue gingham Ricki Reed dress. Supplied: Tom McEvoy
Rabinov's service
Born in Melbourne in 1919, Mr Rabinov enlisted in the military in July 1940 and served as a linesman in the 8th Division Signals.
The conditions on the battlefield, where linesmen were trying to set up and maintain telephone lines at the frontline, were incredibly difficult.
Things would only get worse after the fall of Singapore in 1942, when more than 15,000 Australian soldiers, including Mr Rabinov, were taken as prisoners by the Japanese.
Of these more than 7,000 died as prisoners of war (POWs).
According to Mr McEvoy, Mr Rabinov's survival can be attributed in part to his resourcefulness and ingenuity.
"He quickly signed up to work on the docks … he basically unloaded from boats and took all those resources and piled them onto another boat straight to Japan," he says.
"But the thing was, a lot of the stuff actually went back into the prison camp in socks, hats, or anyway they could hide it."
Mr McEvoy says war diaries show Mr Rabinov became renown as a profitable dealer within the POW camp.
In the book You'll never get off the island: prisoner of war, Changi, Singapore, February 1942-August 1945, Keith Wilson wrote:
"One of the more successful traders and scroungers was Alan Rabinov … he says to me one day, 'You know those cigars, Keith, that I bought last week for 45 cents each? I bought a couple of hundred and they're now worth almost $2 each. I can treble my money in a week if I sell them, so I think I will do that.'"
Return to Australia
Army records show Mr Rabinov was recovered from a Japanese camp at Changi in September 1945 and discharged in November that year.
On his return to Melbourne Mr Rabinov started working for a fashion business on Chapel Street, Mr McEvoy says.
Then a young designer, Dorothy Hall, came across Mr Rabinov when she was looking for help to fill an order from department store Buckley & Nunn.
"Her first order was seven dresses and she's like, 'I can do this,'" Mr McEvoy says.
"Then they got back to her saying, 'Okay, now do 2,000' — alone she had no chance."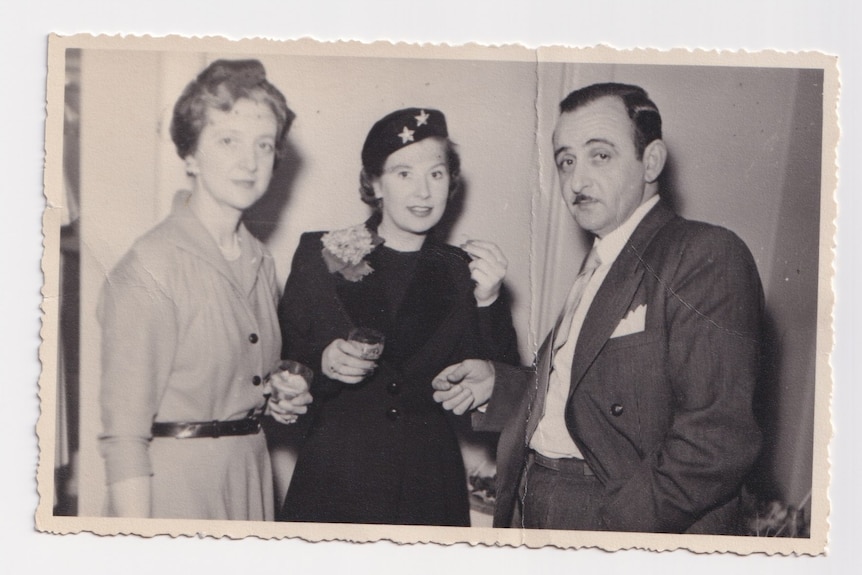 Mr McEvoy says with his enthusiasm and ability to pull strings, Mr Rabinov was able to help Ms Hall fill the order.
Those were the beginnings of the label Ricki Reed, which Mr McEvoy says found overwhelming success in Australia during the '50s, '60s and '70s.
"Dorothy and Alan were very ambitious," he says.
"They weren't trying to make French haute couture, they were making really eye-catching simple stuff for people to feel great in."
As well as running the business together, Mr Rabinov and Ms Hall got married in 1956.
They later separated and Dorothy moved to London, marrying John Tyoran who was working in a dress retail business in London.
From here Ricki Reed's success spread internationally.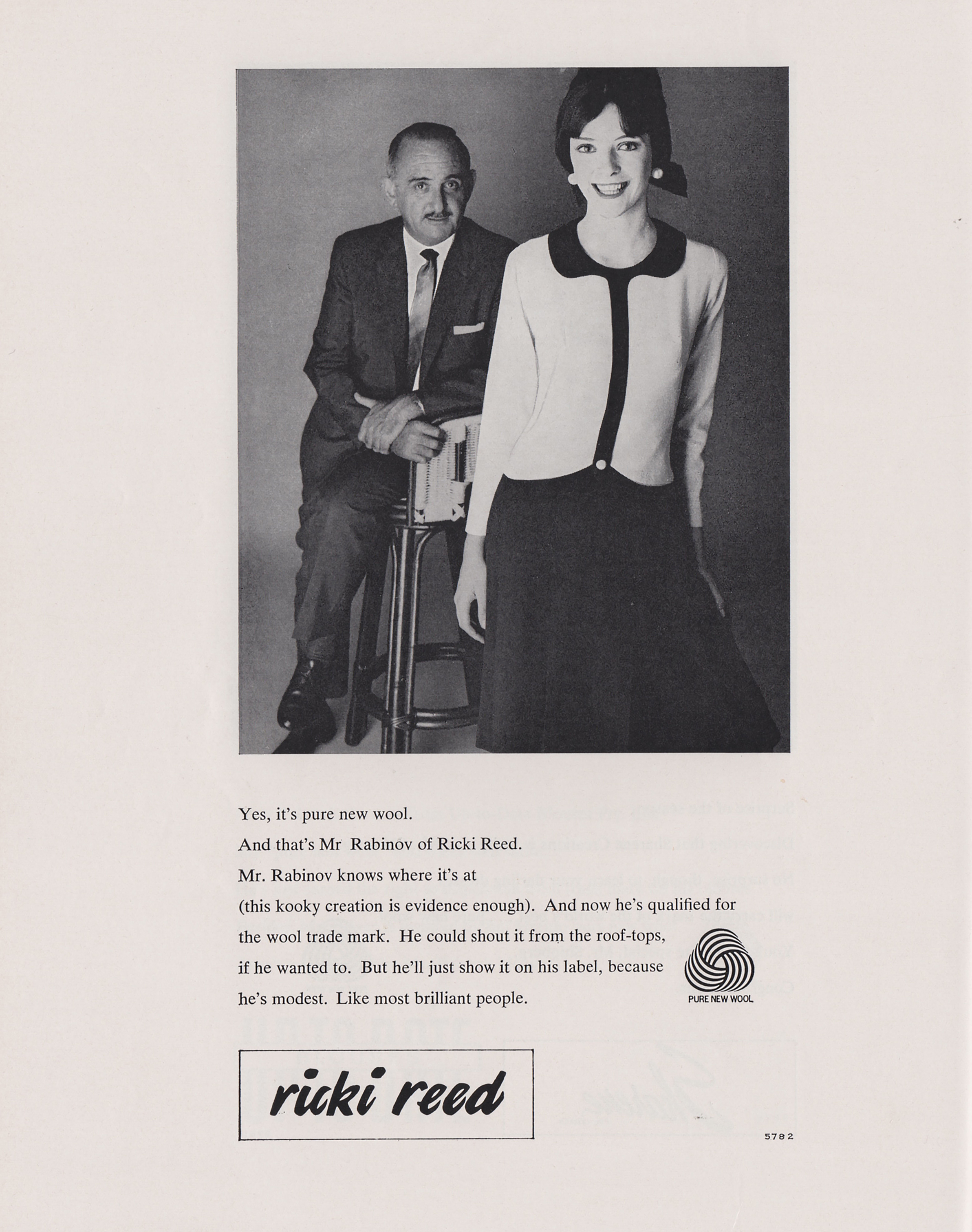 Reporting from The Australian Women's Weekly in 1965 said "Ricki Reed dresses are taking London mods by storm" with the most popular summer style selling 14,500 dresses.
That year Ricki Reed also sold their complete range in the United States and Canada.
Mr Rabinov stayed involved with the business after the separation.
Mr McEvoy says if Mr Rabinov hadn't survived WWII, one of Australia's most successful youth fashion labels may have never come to fruition.
"I keep thinking to myself, if Alan was just a few metres to the left or a few metres to the right and caught a bullet or shrapnel from a bomb, nothing would have happened," Mr McEvoy said.