On Monday, Pete Davidson attended at the New York premiere of "Transformers: Rise of the Beasts" — the franchise's seventh movie, and the first starring the former "Saturday Night Live" regular. His ensemble for the red carpet? An electric blue velour tracksuit spray-painted with a rudimentary image of an Autobot character.
The complete sweat set, made by Los Angeles-based brand Polite Worldwide, retails at around $800 — a pricey canvas for some wearable graffiti. As one Twitter user put it, "You know you're rich when you go out (in) a sweatsuit to a public event." You may be even richer when that outfit appears to be defaced.
Davidson has adopted an increasingly casual approach to red carpet dressing. At the Met Gala in May, he wore a black bucket hat (albeit a Fendi one) to the prestigious fashion event. Attending the premiere of "The Kardashians" on the arm of then-girlfriend Kim Kardashian in 2022, he eschewed a dress shirt in favor of a plain white tee.
He isn't the first star to prove that true wealth often hides behind unassuming sartorial choices. In 2021, Voguenamed Adam Sandler that year's "fashion icon," citing a volume of Google searches that beat Harry Styles, Lizzo and Britney Spears. Now considered something of a fashion anti-hero, Sandler garnered attention with billowing basketball shorts, clashing patterns and penchant for cotton T-shirts during the pandemic, when comfort was king.
"I'm a big Sandler fan," Davidson told Complex in a video released this week. "I think Sandler is like 10 years ahead of everyone (in) fashion, always." The comedian added that he has started wearing custom Uggs, inspired by Sandler's early-2000s embrace of the divisive boots.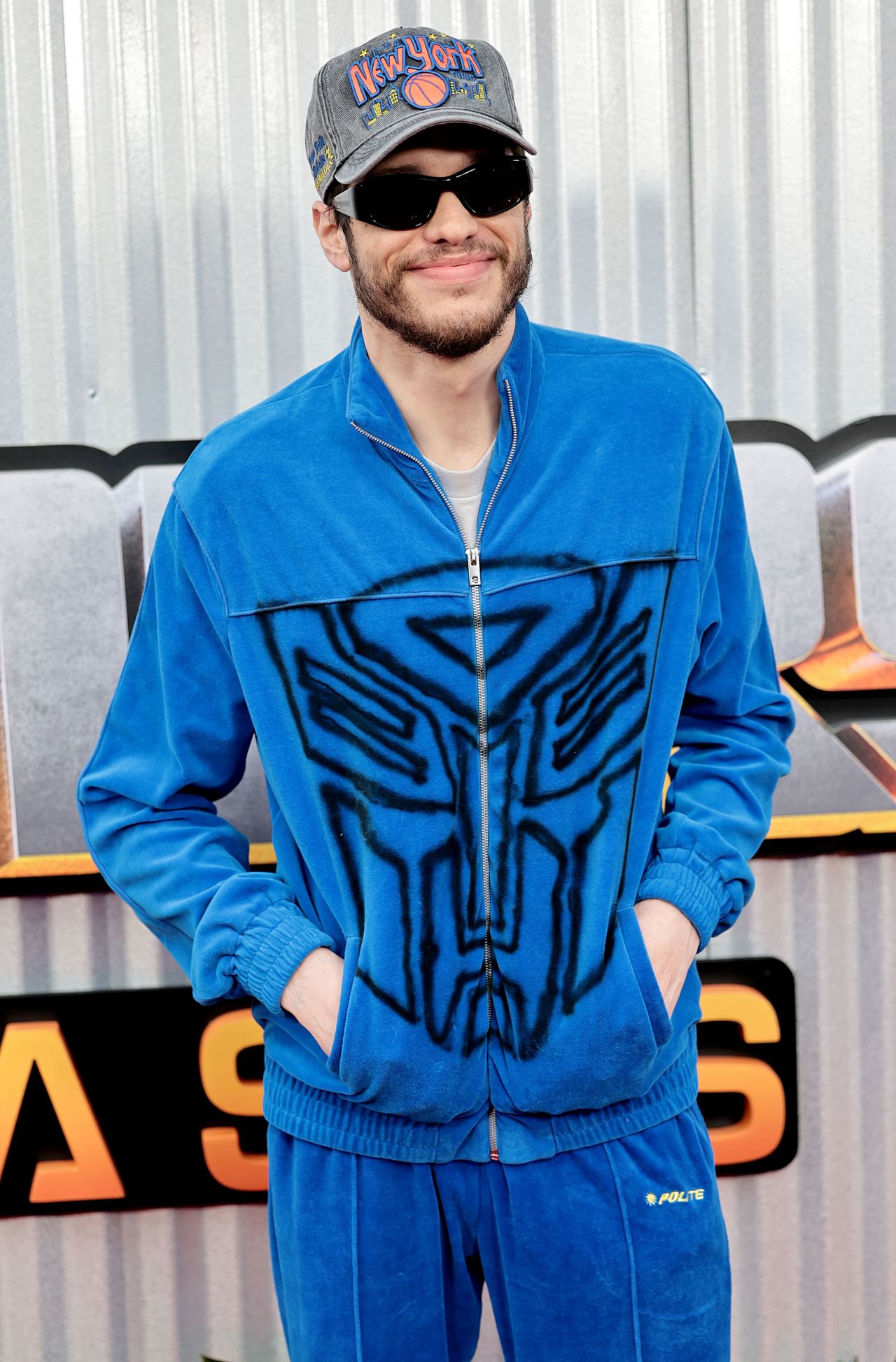 Davidson has recently been taking a more casual approach to red carpet dressing.Jamie McCarthy/WireImage/Getty Images
It's a different take on quiet luxury. Despite Sandler's estimated net worth exceeding $400 million, there appear to be few fine suits or Loro Piana knits lurking in his closet. Instead, his personal style is apparently informed by what comes out of the laundry first ("new stuff gets me kind of itchy," he told Esquire last year). His "laissez faire" attitude to dressing goes beyond wanting his wealth to whisper, rather than shout — he seemingly wants his wardrobe to show no trace of wealth at all.
And like Sandler, who is frequently pictured in casualwear alongside decidedly better-dressed female co-stars, Davidson has raised colleagues' eyebrows on the red carpet. "I'm glad Pete dressed up for the occasion," quipped a sarcastic Kaley Cuoco when the comedian turned up to the premiere of their 2022 movie "Meet Cute" in green sweatpants and a white hoodie pulled over his head.
It is a reminder that devil-may-care approaches to fashion are a luxury rarely afforded to Hollywood's women, whose careers are often directly impacted by their ability to impress on the red carpet. From Cannes Film Festival'sunofficial high-heel mandate, which has spurred protests from acclaimed female actors, to scathing "worst-dressed" lists that perpetuate impossible beauty standards — women are held accountable for their appearances in ways the Davidsons (and Sandlers) of this world seldom are.