Attending the 2023 Tony Awards in New York Sunday night, Lupita Nyong'o arrived in timeless formalwear: a sharp black velvet dinner jacket and flared trousers. Peeping from under her lapels, however, was a far-from-standard take on a black tie ensemble — an armor-like rendering of her bare chest, as if the actor had been dipped in molten silver.
Nyong'o was wearing a custom breastplate cast and molded on her body by Misha Japanwala, a Pakistani artist and designer whose subversive sculptures are already increasingly attracting an impressive celebrity clientele. (An exhibition of Japanwala's work is also currently on display at the Hannah Traore art gallery in New York.)
With every rivet in Nyong'o's ribcage and the curve of her clavicle rendered delicately in high-shine metallic hue, the piece provided a provocative illusion of exposure, and gilded commentary on body positivity.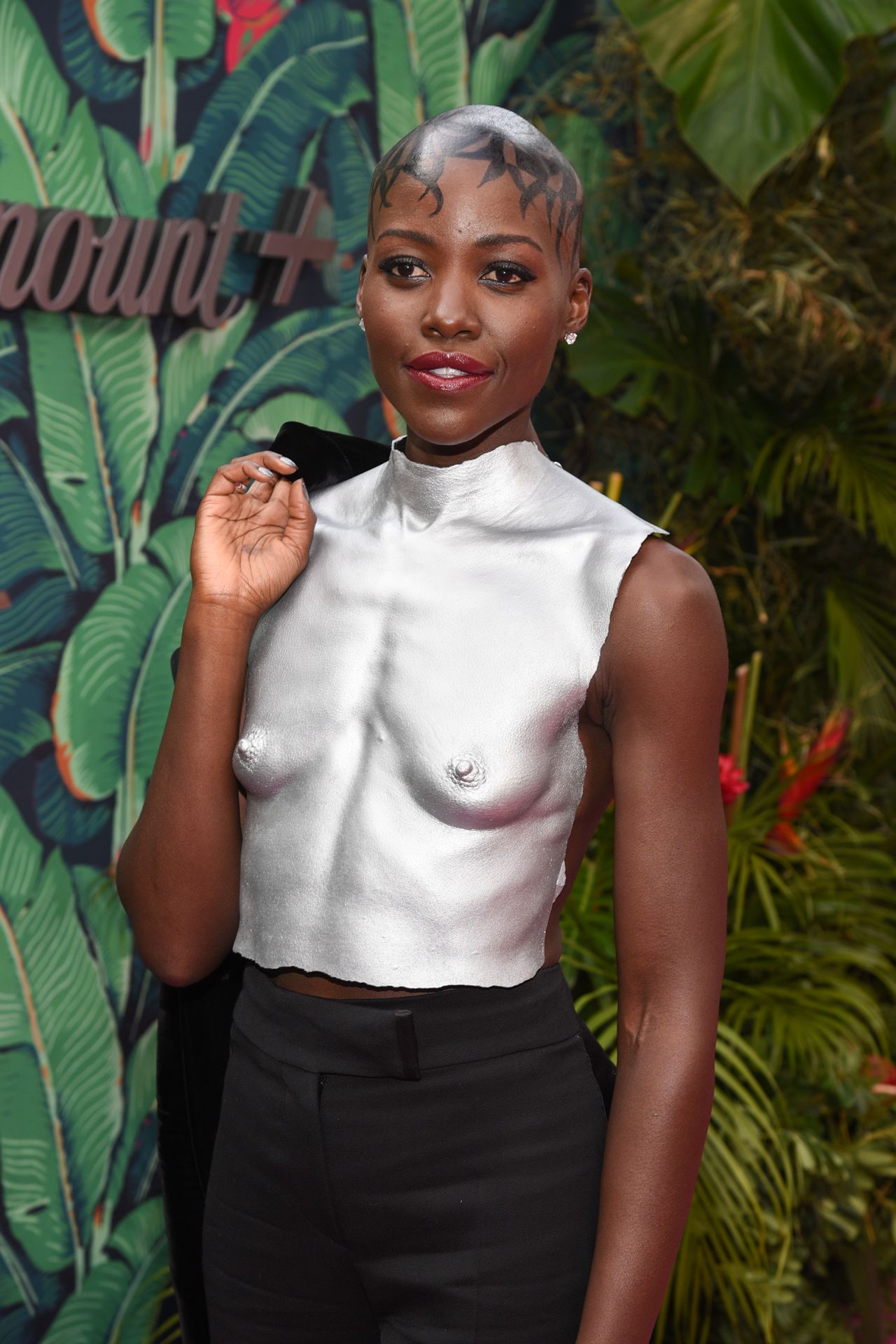 Misha Japanwala's work "asks viewers to see the body exactly as it is," the artist writes on her website. "Her practice is an insistence for marginalized bodies to occupy physical space" — and, as Nyong'o proved, to take over red carpets.Steve Eichner/WWD/Getty Images
In particularly noteworthy appearances, the breastplate has in recent years been donned by fashion darlings like Zendaya, who wore a pink chrome Tom Ford creation at the 2020 Critics' Choice Awards, Bella Hadid, whose filigree Schiaparelli breastplate became a major red carpet moment at the Cannes Film Festival in 2021, and, of course, Rihanna, who stunned on-lookers in a red Loewe piece during her Superbowl halftime performance earlier this year.
But breastplates were first seen on the fashion runways over 50 years ago, when Yves Saint Laurent collaborated with sculptor Claude Lalanne for his Fall-Winter 1969 Haute Couture collection. Lalanne created sculpted pieces out of galvanic copper— a body cast of a stomach and another of a bare chest — which featured as the central elements of two Grecian evening gowns in the show.
And in their original form they date back millennia further still, created as stylized armor for wealthy warriors in ancient Greece. These fighters' breastplates were chiseled to portray an idealized version of the human form; perfect pectoral muscles, taut obliques and (literal) rock-hard abs were hammered into the bronze armor to flatter the wearer both as a show of status and attempt to intimidate an opponent.
Japanwala's work, however, presents a very different picture. Instead of depicting a fantasy, her pieces are a form of documentation and reclamation. There is nowhere to hide in a molded body cast, but nor should there be, says Japanwala, who describes her work as "a rejection and deconstruction of the external shame attached to one's body." Nothing is lost, airbrushed or altered through her body-casting process — rather, it is highlighted, allowing the 27-year-old artist to push back against homogenous beauty standards by enshrining a variety of body shapes.
"A shame-less out-of-body experience," Nyong'o wrote of the breastplate on Instagram. "Thank you for this special opportunity to be exactly here, in this body now."
And while some online have perhaps inevitably taken issue with the revealing nature of Nyong'o's look, Japanwala's intention remains clear: "Our bodies shouldn't need to prove anything other than being allowed to simply exist," her artist statement reads.