SINGAPORE: Remember Crocs, the chunky rubber slip-on dotted with ventilation holes? They are becoming popular again – on red carpets and in supermarkets alike.
"Personally, I used to hate it. But I loved how open, willing, and adaptable the brand is," said fashion educator and creative consultant Rio Furqan Saini.
"At its core, and let's be honest, it's an ugly pair of rubber slides. But ugly is subjective."
Once ridiculed, the brand has seen a revival in recent years, with its comfort, celebrity endorsements and iconic look driving its comeback.
The American footwear company debuted more than 20 years ago at a boat show in Florida, where 200 pairs were sold out.
Sales quickly grew in the next five years, with the company undergoing a rapid expansion. But amid the global financial crisis, the brand's stock fell quickly, and by July 2014, it announced it was closing 75 to 100 stores worldwide.
But in recent years, the beleaguered firm started making a comeback, and not just in the US. The Asia-Pacific region saw a huge jump in revenue in the third quarter of this year.
Revenues in Asia Pacific grew 65.5 per cent to US$138.5 million, the biggest percentage increase across all regions, including North America and Europe.
"We continue to see high growth potential for the brand, fuelled by strong consumer demand globally, and we remain on track to reach US$5 billion in revenues by 2026," a Crocs spokesperson told CNA.
The Asia-Pacific region has high growth potential, with "consumer awareness and excitement on the rise", the spokesperson said.
For 21-year-old Crocs lover Zenith Wong, wearing the holed sandals is a part of her identity.
"To me, Crocs make me feel like my own individual. Boldly wearing a piece in spite of the criticism of it in the fashion world makes me feel unique and good about myself," she said.
CELEBRITY ENDORSEMENTS
The reasons for the revival of Crocs as a brand are varied, but among them is celebrity endorsements, fashion experts told CNA.
In recent years, Crocs have been spotted on the feet of famous celebrities – Justin Bieber, Nicki Minaj, Jisoo from Blackpink and Ariana Grande – to name a few.
A key factor that has brought Crocs beyond the mainstream is celebrity culture, said Mr Furqan.
These celebrities are "mixing it up as extensions of their personalities in both daily life and even the red carpet", he added.
"The openness of Crocs and its open business model of collaborations with high fashion has propelled its sartorial game," said the fashion director.
Sell-out collaborations with singers such as Post Malone and Bad Bunny have elevated the once fashion faux pas to iconic status.
A lot of influencers and celebrities who are popular among the Gen Z crowd, such as Bretman Rock and Bella Poarch, are brand ambassadors for Crocs, said Rohaizatul Azhar, a fashion lecturer at LASALLE College of the Arts.
But it is not just celebrity marketing – the brand has collaborated with designer fashion houses to further elevate itself.
Some high-profile partnerships include the Balenciaga Hardcrocs which were priced at S$1,500 per pair, and a collaboration with Chinese fashion label Sankuanz.
Demna Gvasalia, creative director of Balenciaga, has been working very closely with Crocs for a few seasons now, said Mr Rohaizatul.
"Demna is very trendy with the cool crowd," he explained.
"Collaborations enable us to capitalise on the tension that surrounds our brand, as well as drive relevance for Crocs. Our approach continues to excite fans and elevate the brand with consumers with collaborations led both globally and locally," said the Crocs spokesperson.
According to 21-year-old student and Crocs lover Vera Lim, brand collaboration and celebrity advertisement make people "more inclined" to buy Crocs or think they are cool again.
"The slight changes in designs also suited made it more appealing," she said.
Ms Wong added: "It's just like a new fashion piece. Crocs are really upping their marketing on social media … Nobody laughs at them anymore.
"It's trendy, they have endorsements by celebrities, it's definitely become mainstream."
ICONIC LOOK
But beyond the red carpet and fashion runways, the shape of the once-derided shoes is now one of its biggest selling factors.
"There is also this anti-fashion fashion movement – it is more like being ironic, and trying to make what millennials think is uncool, cool again," explained Mr Rohaizatul.
Crocs are just "so darn ugly", said Mr Furqan. "It is the rise of ugly chic."
"Inherently, aside from the function of it, the form itself is clunky, such is its design language. But then, that's where the beauty is," he added.
For it to be so "diametrically opposed" to a pair of sleek branded shoes makes Crocs the perfect example of it being anti-fashion, explained Mr Furqan.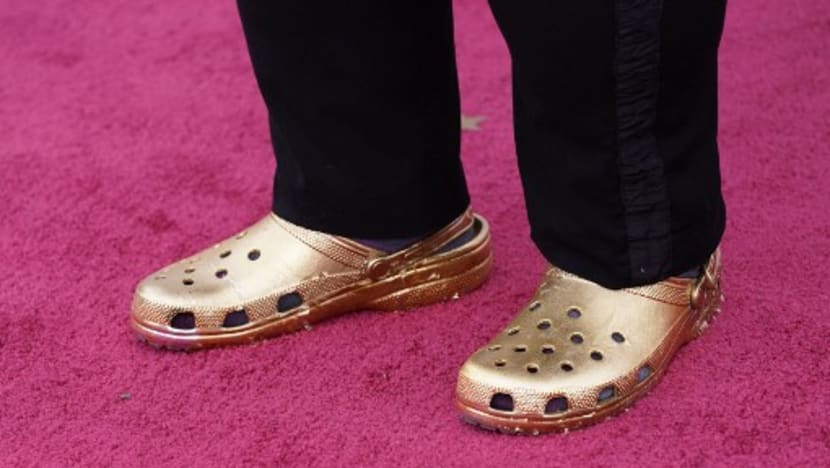 Ms Wong said the main driving factor to getting a pair was the "disdain that I have for Crocs, after hearing people call it ugly and how it's so out of trend and people just disliking it".
"When I was trying to find something unique to wear and something to portray my individuality, that's what I turned to because it would have made me unique to buy Crocs," she added.
Samanntha Htun, another Crocs lover, said part of the appeal is the ability to personalise the Crocs with Jibbitz.
Jibbitz are charms that are attached to the slip-ons.
"It has become a trend, especially with the various customisations of Crocs. It has become something that people can express themselves with and showcase their personality through the Crocs that they wear," said Ms Htun.
"It gives personality to your Crocs and there are really many options to choose from to really express your creativity," said Ms Lim.
Personalisation is a "critical part" of Crocs' business, said its spokesperson.
"As a brand, we strive to help everyone feel comfortable in their own shoes and create products that are a blank canvas for individuality and self-expression," said the spokesperson.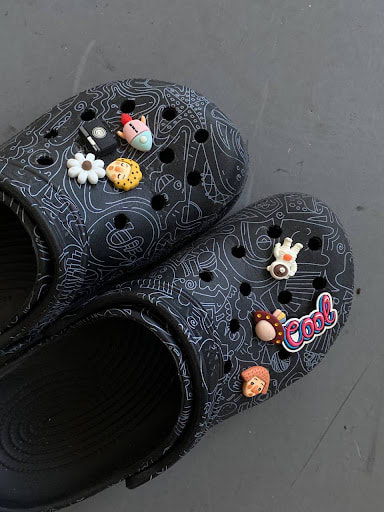 But not everyone thinks that Crocs will continue trending.
Mr Rohaizatul, who said he does not get the appeal of Crocs, noted that the footwear is "not for everyone".
"I am not sure it can be called a fashion brand, even if designer labels are working with Crocs," he said.
"Fashion is cyclical. It'll go away. Maybe not so soon … However, I also think that the footwear trend is moving away from Croc-styles."
COMFORT
But away from fashion and trends, Crocs' functionality and comfort have seen them develop a loyal fanbase among workers who spend a lot of time on their feet. These include healthcare workers and people who work in food and beverage outlets.
Ms Htun bought her first pair of Crocs while looking for some shoes to wear for work at an F&B outlet.
"The many cute designs and colours of the other crocs caught our eyes," she said.
They are extremely functional – waterproof, with sufficient coverage, yet breathable and with a transformable structure for different occasions, said student Ms Wong.
"I wore my first pair of Crocs in 2009 when I was eight years old. They were bought for me by my parents since they were a staple shoe for children at the time. But over time, younger me grew to think they were juvenile and tacky so I stopped wearing them," said Ms Wong.
"The only reason for the decline in Crocs is how much their appearance was frowned upon. With such criticisms out of the way, to me, it is natural they rise in popularity again," she added.
The pandemic accelerated the shift towards comfort over form and when lockdowns in the US forced it to close stores, it donated more than 860,000 pairs of Crocs to healthcare workers.
"I think the pandemic has seen people moving away from stilettos and cute shoes to comfortable ones," said Mr Rohaizatul.
This comfort is the "key to happiness", said the Crocs spokesperson.
"As a brand, we strive to help everyone feel comfortable in their own shoes and create products that are a blank canvas for individuality and self-expression."
Wearing Crocs is an "extension of Singapore's flip-flop wearing culture", where comfort and weather conditions play a huge role in what people wear, said Mr Furqan.
"With each passing year, Crocs has permeated every aspect of fashion, popular culture and life. Right now, I wouldn't mind wearing Crocs and I think it can easily be translated to just about every aspect of my own life," he said.
Source: Channel News Asia