Here's how to pull off the look for the CNY festivities without incurring the wrath of the elders. 
Traditionally, wearing black during Chinese New Year is considered taboo because the colour is associated with grief and sombre times. But what if your wardrobe is largely black and you need to work around it?
There are ways to look pretty, presentable and, more importantly, acceptable with bits of black for the festivities, experts tell CNA Lifestyle. You could channel a stylishly dark wardrobe that's still respectable enough for the occasion. Here's how: 
1. PAIR IT WITH A BRIGHT (PREFERABLY AUSPICIOUS) COLOUR
Avoid getting too moody by pairing your black top or bottom with a brighter colour. A chilli red top with a black skirt or pants is festive but not over-the-top auspicious. Or go the reverse with a black on top coupled with a cheery crimson, pink or fuchsia skirt. The contrast is not only interesting but the dark hue sets off the brightness of the other shade and makes the latter pop even more.
2. REVISIT TRADITION
A traditional style and cut can't go too far wrong during a culturally festive occasion, even in black. Daryll Alexius Yeo, fashion stylist and creative consultant, advised: "Opt for a cheongsam-inspired dress in the dark hue for a contemporary appeal. It's sexy, looks grown-up and doesn't feel like it only needs to be worn during the Lunar New Year."
And if you're not keen on committing fully, he suggested a top or blouse in that style instead. He added: "Pair it with a neutral-toned midi skirt or flared trousers to also balance out the proportion of the snug fit of the cheongsam."
3. BE A FLOWER CHILD
A coloured floral pattern against black makes it feminine, fun and vibrant. Can they really fault you for gloomy dressing when pretty flowers are abloom all over you?
4. THROW ON A BLAZER
Coupling your non-black outfit with a black blazer can frame your look and elevate it but also offers you the versatility of dropping the black when you absolutely have to.
"Pair any vibrant-hued mini dresses/ensembles with a black oversized men's blazer for more appropriate daytime setting," advised Yeo. The blazer can be removed when you're outdoors in the heat, when you're entering a more casual setting or when you're visiting strictly traditional relatives who won't accept anything less than auspicious for the Chinese New Year."
5. GET YOUR STRIPES AND CHECKS
Patterns such as stripes and checks in monochrome are forever contemporary and stylish. To wear them for the festivities, you can pair them with a coloured separate. Try a pinstripe skirt with a brightly-hued top, a checkered or striped top with a skirt in a vivid colour. Or pick a dress with bold stripes and add a coloured shawl or cardigan to complete the look.
6. TEMPER IT WITH FRILL AND FLOUNCE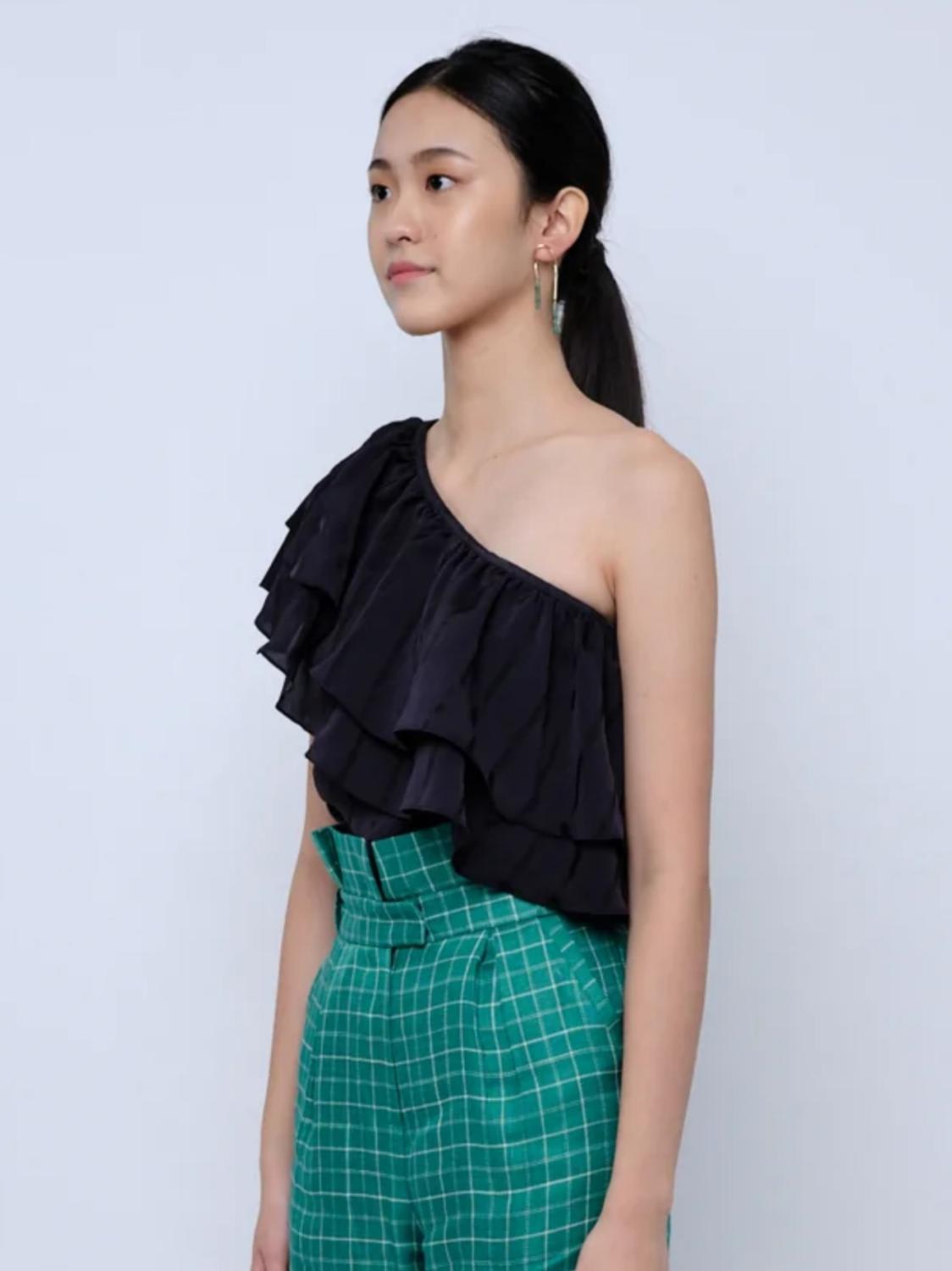 Opt for soft and sheer fabrics that are immediately feminine. Instead of a completely black look, pair a delicately ruffled top with a coloured bottom or go with a bold colour at the top and bring on the dark flounce at the bottom. Add a slick of vibrant red on your lips to break up the dark hue and to add more glamour to the look.
These contemporary wardrobe must-haves go well with everything from jeans and pants to skirts and dresses. It's a favourite with models Gigi Hadid and Hailey Bieber, and their versatility can take you from a casual catch-up to a more formal lo-hei dinner. Whether you choose penny or lug sole, loafers are stylish and comfortable footwear that can take you from one visit to the next with ease. No one should fault you for wearing sensible shoes like these.
8. REACH FOR BLACK ACCESSORIES
If you can set your penchant for black aside for the festive visits, you can still top off your non-black look with darker details instead to add interest and to keep it relatively safe.
"Accessorise with black-hued details. Think chic novelty bags, fancy headbands, patterned sunglasses and opulent jewellery pieces. Hints of black stylishly sprinkled all over your outfit for the Lunar New Year goes untroubled and unnoticed by the elders," said Yeo, who added that black accessories can add visual interest to an outfit that is too heavy in a particular colour or print.
Source: CNA Lifestyle