A few weeks before protesters stormed the Paris offices of luxury conglomerate LVMH, one of its biggest-name luxury brands, Louis Vuitton, launched its first ever baby collection, for 0-12 months. While it would be hard to pin any political unrest on the grey cashmere onesie for £755, or the £360 monogrammed Mary Jane shoes, it speaks to the current mood that while some people fight for pensions, others are willing to spend that kind of money on an outfit destined to be pooed on.
Louis Vuitton is not alone. For some people, childrenswear will always mean cheap T-shirts you don't mind becoming encrusted with yoghurt – but revenue in the children's apparel segment reportedly amounts to US$267.50bn in 2023 (£215.30bn) and the market is expected to grow annually by 2.46%.
Luxury fashion houses aren't letting this moment slide away – in 2021, for instance, hyper-aspirational brand The Row, run by the Olsen twins where prices for a jumper are routinely in four figures, launched its first children's collection (two to eight year olds), ditching their unwavering palette of camels and ecru for bright blue, orange and pink cashmere items that could be yours for a maximum of $800 (£646). On the British high street, Whistles launched a collection of kidswear last year, after similar moves from adult brands & Other Stories, Reformation and Rejina Pyo.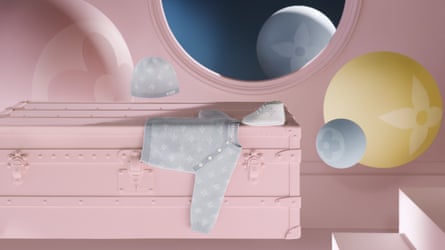 Playgrounds are full of children wearing intimidatingly on-trend outfits thanks to a pram-load of brands that cater to the fashion-forward sprog (or, realistically, the parent dressing them). These include UK brands such as The Bonnie Mob, Another Fox and Organic Zoo. But many are imports, such as Spanish brands Bobo Choses, Tiny Cottons and The Animals Observatory. Scandinavia is, unsurprisingly, leading the way in desirable children's threads, from the kid-friendly but very "cool" prints of Mini Rodini to outerwear brands such as Polarn O. Pyret – as fit for a North Sea trawler as for the see-saw.
If all of this dressing children in modish styles feels very now, it is and it isn't. During the early 18th century, children transitioned to adult dress fairly early according to dress historian Alden O'Brien. But "as attitudes towards childhood changed – letting children be children, play, have less constricting clothes – the age for moving out of children's dresses rose."
To the modern mind, letting kids be kids probably translates sartorially to Teletubby-brights and prints so busy that it takes a minute to spot the morning's banana. But there is also a new neutral mood, known as the "sad beige" trend, that sees toddlers in UK parks look as if they came straight from the 19th century, or rural Hälsingland. Pinafores and grandpa-collar shirts come in shades of clay, oat, sesame and well-known kiddy favourite, dark beige.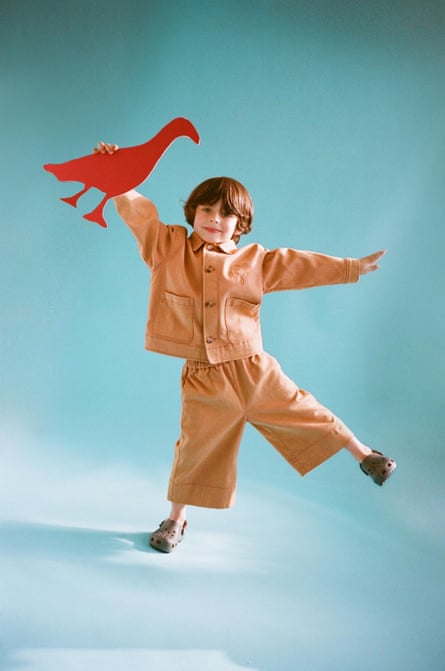 "This has been influenced heavily by social media because it looks nice in pictures," says Phyllida Gray, founder of Les Petits Champignons which focuses on preloved children's clothes – she has seen this trend reflected in her sales. On holiday at the moment, her suitcase of clothes for her kids "is a 50/50 split between cool vintage stuff that's bold, fun and playful and then more neutral items that are easy to pair, and will look good in a photo against a pretty French door."
It is in part a byproduct of the post-hygge Scandi-minimalism aesthetic, that has washed over us like warm oat milk. But an intriguing sub-set of this look stems from the US state of Maine. Brands such as Misha & Puff offer options for those wishing to dress their children like extras from The Ice Storm, while Rudy Jude sells devastatingly tasteful – and, it should be conceded, practical – gardener's pants, "utility" jeans and flax dresses.
While it might not be conducive to a life that doesn't revolve around your Hotpoint, it can be a practical winner. "I think it can be easy to dress kids in neutrals as you don't have to think as much about things matching," says Gray. Again it has a historical precedent. According to costume and textile historian Colleen Callahan, in the 19th century, white cotton was used for babies' outfits because it could easily be bleached without fading.
According to John Lewis though, this muted look has a shelf life. In the brand's recent survey, seven was the age when most children started to refuse clothing choices and, so the theory goes, with autonomy comes a decision to wear more colour. But tahini-coloured tights might be more of a crowd-pleaser than they first seem. "Kids often like to match clothes with their parents, so it is natural that the same tones come for adult and kidswear," says Terezia Prazska, founder of the brand Silly Silas, which makes knitted tights with braces, inspired by those worn by her parents' generation in former Czechoslovakia. "Muted colours are popular for their practicality and versatility," what better accompaniment to a gaudy print than a putty tone.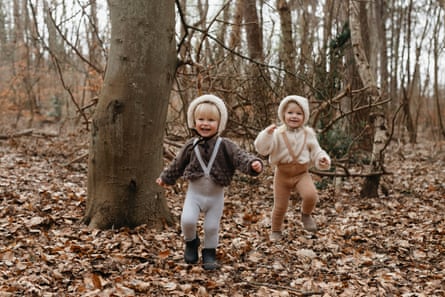 All of these tasteful neutrals also subtly sidetrack any gendering of kiddy clothes – again, a modern phenomena, according to Callahan, with blue and pink used interchangeably for boys and girls until after the second world war. There is perhaps a practicality here, too: genderless garments will be easier to bestow as hand-me-downs. Plus, while a blue dinosaur romper or pink princess print might be instantly recognisable as M&S, caramels are to baby rompers as gilets and logo-less hats are to adult clothes; more stealth wealth than mass-produced high street.
With an estimated 183m pieces of outgrown children's clothing going to landfill in the UK every year, thankfully for the environment, many of these hot-ticket kidswear brands put better-than-average emphasis on sustainability. Plus there has been a surge in rental and subscription services; from big name shops that offer rental, such as Arket and Selfridges, to brands that have cropped up specifically catering to parents looking to rent clothes for their children, such as Bundlee and The Little Loop.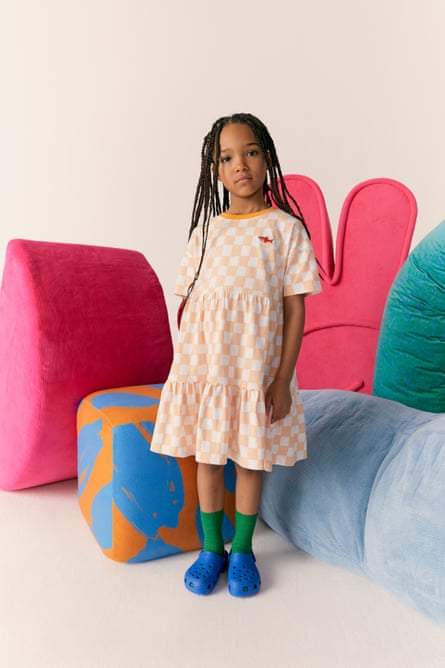 There is also an increased appetite for vintage kidswear on eBay and Vinted. It is having a "huge resurgence," says Gray. Vintage Levi's jeans and jackets; Carhartt dungarees – "generally pre 1990s is more popular as the styles and fits are just better!" – and old school dungarees by Osh Kosh B'gosh are all hot property.
Paying a premium price for clothes destined to be quickly outgrown and/or constantly covered in baked beans might not be as bonkers as it at first sounds. "It's well worth spending the money on better quality brands, as opposed to high street," says Gray, "because the materials are generally nicer, wash better and are often organic" If they need mending, good quality fabrics will be much more easily stitched. While £17 might seem steep for a pair of tights, Silly Silas's are intended "to last and be an heirloom piece that multiple siblings and generations can pass to each other."
There is also a surprising economy to it. "The resale value is much, much better for high price-pointed brands," says Gray. "I can buy secondhand Mini Rodini, Caramel, Apolina etc for my daughter and resell it for exactly what I paid." Writing as someone who sold a much-loved and worn Another Fox romper for little less than I had bought it for, the relative and unexpected frugality of high-quality baby togs can be deeply satisfying.
Source : TheGuardian