Our nationwide fascination with #BamaRush all started with OOTDs.
That's Outfits of the Day, for the uninitiated. Every day of sorority recruitment at the University of Alabama in 2021, collegiate women showed off their Golden Goose sneakers, fluttery shorts from the Pants Store and Kendra Scott pendants. There were chunky wedges and flouncy dresses and Lululemon shorts to "run home" in; there were the funny mishaps and heartbreaking rejections. And we the audience were there for all of it, until the Southern sorority hopefuls became sisters (though some never made it to Bid Day).
#BamaRush became wildly popular in August 2021 and once again in 2022 – the hashtag has been viewed more than 2.6 billion times on TikTok. Suddenly, millions of eyes were on this previously mysterious ritual that, despite the access provided by TikTok, still remains murky. And we got our first taste of Southern sorority life through their highly specific clothes.
The documentary "Bama Rush," premiering on Max (formerly HBO Max) on Tuesday, aims to demystify the simultaneously bubbly and heartbreaking recruitment we vicariously lived through on TikTok. (Max, like CNN, is a unit of Warner Bros. Discovery.)
The sorority recruitment dress code is curiously conformist. The recruits' outfits often communicate personality, privilege and etiquette, among other qualities sororities value. The clothes are what sucked us into #RushTok, and they're tools, too, that rushees use to impress an unknown group of young women with enviable social capital. And sororities often use them to maintain the status quo.
Recruitment fashion is about sticking to the script, not sticking out
A potential new member walks around the University of Alabama's Sorority Row during recruitment week in 2022. Jill Frank/The New York Times/Redux
The conformist elements of sorority life can be appealing at first: Writing for Racked, Stephanie Talmadge said in 2017 that "fraternities and sororities offer a quick solution to the 'who am I?' conundrum. Rush at the beginning of your freshman year and get a brand new label before you even step foot inside a classroom."
The young women in "Bama Rush" express similar reasons for wanting to join a sorority – sisterhood, belonging, a sharpened sense of self. Meticulously picking out clothes that telegraph their eagerness to be accepted is just a part of the process to joining a four-year family.
And at the University of Alabama, Greek life is exceptionally popular – around 36% of all students, or 12,000 people, belong to one of the school's 69 Greek organizations.
Recruitment places an emphasis on sameness: At a massive Southern public university like Bama, sorority members might wear matching T-shirts and skorts for the first round and pull outfits from the same color palette as recruitment goes on.
For potential new members, or PNMs, the University of Alabama's Panhellenic association also creates guides on what to wear for each round so they'll fit in with the rest of their rush group. These guides often don't tell PNMs to avoid baring their midriffs or wearing thin spaghetti straps, but current sorority members often do in comprehensive videos on the dos and don'ts of sorority recruitment on TikTok and YouTube.
One Bama alumnus who rushed told The Cut in 2021 that while those guides to recruitment clothing aren't "prescriptive," if PNMs "don't look like (they're) supposed to (e.g., you show up in a T-shirt instead of a dress), people will be like, 'She's weird.'"
Trisha Addicks, a sorority recruitment coach who appears in "Bama Rush," says the key to the perfect rush look is to "blend in without crazy sticking out."
"You don't have to be like everybody else … not trying to follow the crowd or the trend but while also fitting into a certain kind of mold for rush," Addicks says in the documentary, during which she accompanies a sorority hopeful to several stores to find a suitable recruitment dress. "You don't want to give a sorority a reason to cut you."
Why clothes are so important during recruitment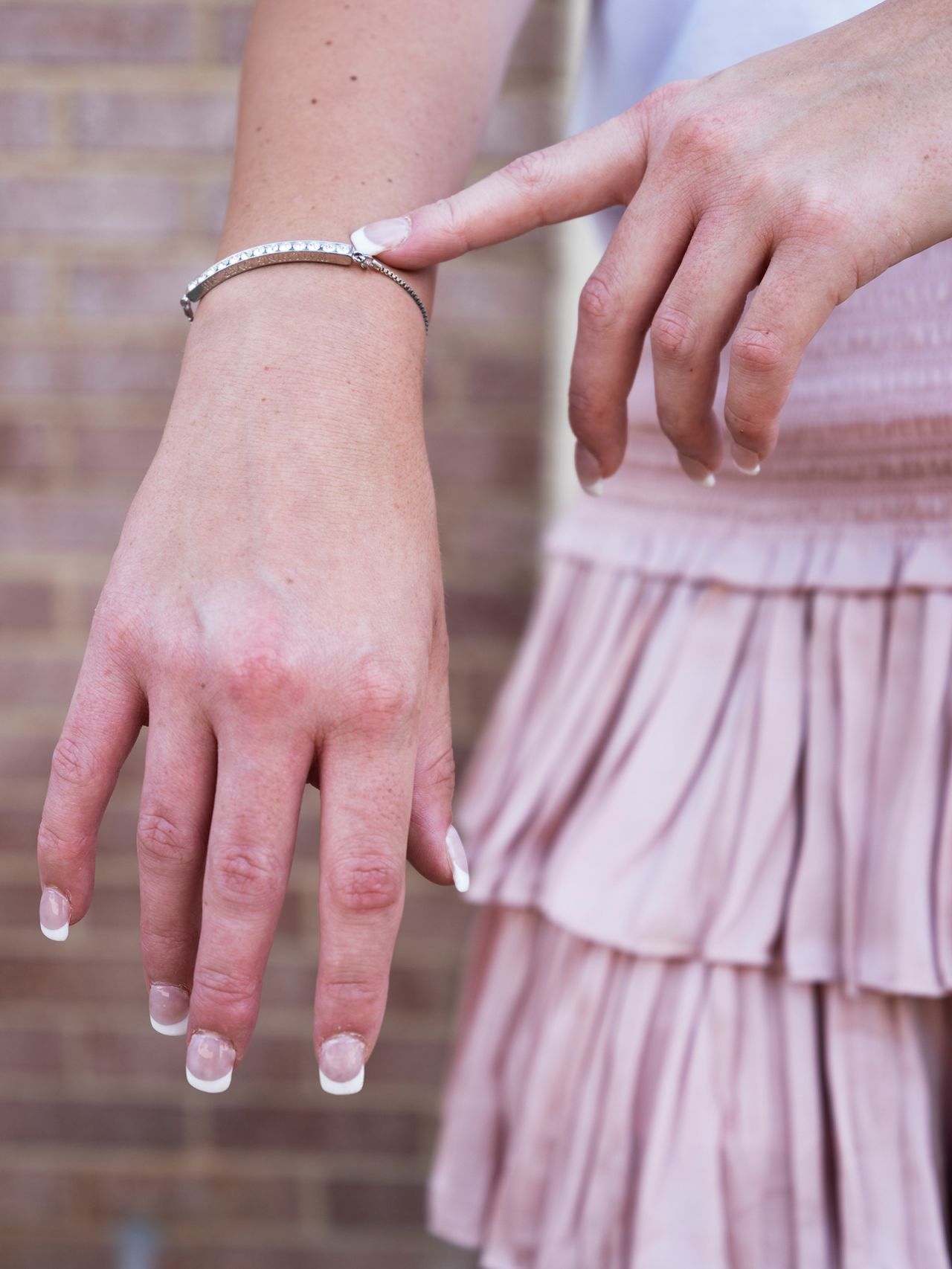 A student flaunts her bracelet during recruitment at the University of Alabama in 2022. Jill Frank/The New York Times/Redux
So why the emphasis on dress? Historically, according to studies of and interviews with sorority members throughout the 20th and 21st centuries, sororities have chosen pledge classes with an aim to ascend or maintain their place within the Greek tier system, an arbitrary and unofficial ranking of sororities and fraternities based primarily on the physical attractiveness of its members. (Active University of Alabama sorority members told "Bama Rush" director Rachel Fleit that the tier system, whether they believed in its merits, was decided by fraternity men.)
"Openly judging each other in terms of male approval" was a "central theme" among sorority members who participated in a study throughout the 1970s and early '80s, according researchers Simone Ispa-Landa and Barbara J. Risman, in a 2021 comparison between studies from the mid-'70s and the present day. Now, as then, they wrote, "a woman's looks and perceived sociality remain crucial for being invited into a sorority."
Potential new sorority members participate in recruitment at the University of Alabama in 2012, a full decade before "Bama Rush" was filmed. Michelle Lepianka Carter/The Tuscaloosa News/AP
Ispa-Landa, an associate professor of sociology at Northwestern University, also interviewed members of a sorority at an unnamed, highly selective college. There, the members "looked down on" Southern sororities, she said in a phone interview.
But these Greek organizations also emphasized clothing and style during the recruitment process, Ispa-Landa said: When they'd take coats from PNMs, they'd secretly check the tags to find the brands and designers. Class signifiers were another way of evaluating the young women seeking membership, she said.
"They had other ways of using clothes to exclude and include," Ispa-Landa said.
The sororities at the elite university shared the same aims as the Southern sororities: Building a pledge class of conventionally attractive young women with ambition who'd raise their profile on campus.
"I think that so much of the dress codes, formal and informal dress codes, that are part of sorority recruitment have to do with a desire to maintain the group's appeal to those high status men – fraternity men," Ispa-Landa said.
How sorority recruitment is still a racialized process
Even when PNMs do everything "right" on the surface – sticking to certain types of outfits and discussing innocuous topics during recruitment – it may not be enough.
Elizabeth Bronwyn Boyd, who authored "Southern Beauty: Race, Ritual, and Memory in the Modern South," says in the documentary that recruitment is, essentially, "organizing people and groups of people into tiers of power, status and prestige."
Sorority rush, she says, is a "proving ground of competitive femininity and contemporary performance of the Southern belle." As a result, many racialized elements of recruitment remain to this day. That was evident on Bama #RushTok, where most of the "main characters" were blonde, White and thin. In 2021, one biracial #RushTok star said she was dropped from every sorority before she received a bid despite her immense popularity among viewers.
Panhellenic sororities have been predominantly White since their founding in the late 19th and early 20th centuries, when it was extremely rare for Black women to be accepted to a predominantly White university. But segregation continued well after Black students began to attend these schools, Texas Christian University professor Charlotte Hogg wrote for the Washington Post in 2020.
Black students would go on to form Greek organizations at both Howard University, an HBCU, and predominantly White universities. These historically Black fraternities and sororities are known as the "Divine Nine" and don't operate within the same system as the historically White fraternities and sororities.
The University of Alabama's historically White sororities weren't even formally desegregated until 2013, after the student paper the Crimson White revealed that some of the organizations actively avoided extending bids to Black PNMs.
Sorority life isn't for everyone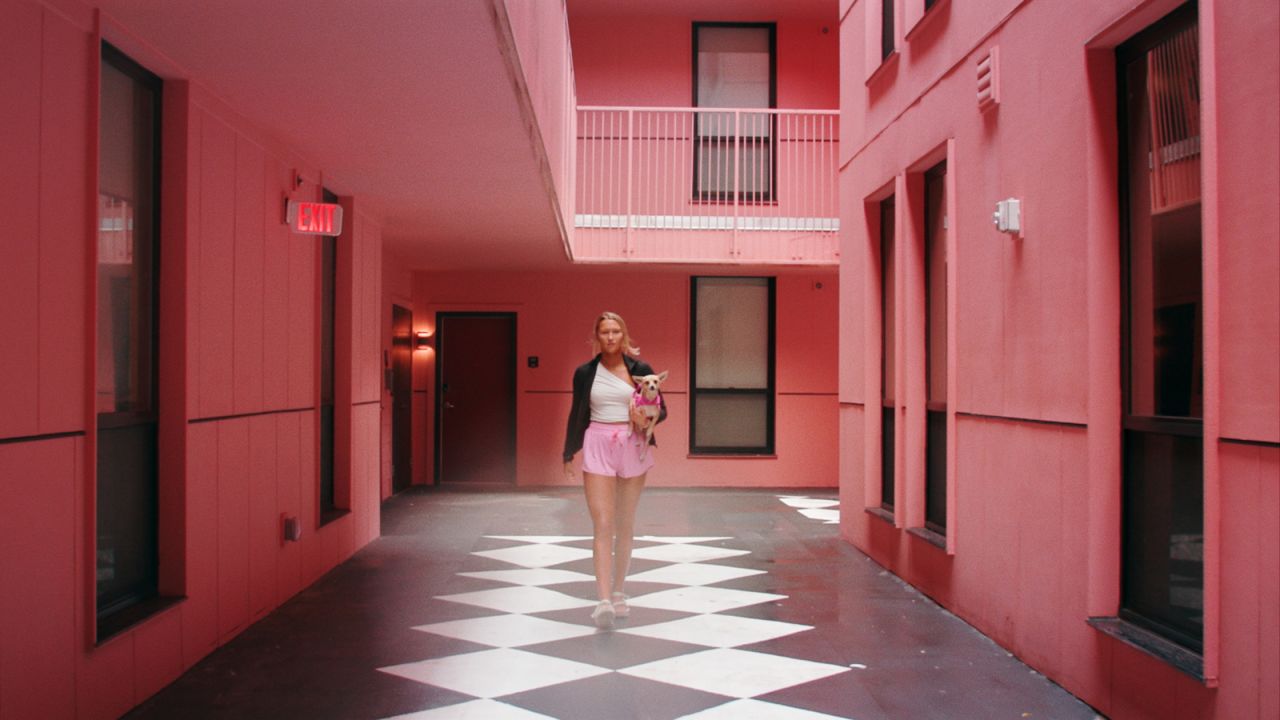 Holliday, a student at the University of Alabama, was dropped from her sorority as a freshman. Courtesy of Max
Only two of four interview subjects in "Bama Rush" went on to join sororities. One, who was "dropped" by her sorority freshman year, opted not to participate in recruitment again, and another subject dropped out before she completed recruitment, tired of the artificiality of the process. (She was the PNM who went shopping with Addicks; she later said none of the dresses she tried on felt like her.)
Going through recruitment requires a conformity that's likely familiar to most young women figuring out who they are, and maybe that's why the process at schools like the University of Alabama remains so popular. But Ispa-Landa said that many members of sororities are disappointed when the idealized image of Greek life presented in recruitment fades.
"Women in my sample were really excited and hopeful to join," she said. "But once they joined, they discovered a lot of things that made them really unhappy. The rush of excitement can kind of conceal the darker things in some ways."